Shredded paper sculptures, such as the Tax Files, reconfigure a mass of paper that has been grouped and saved based on written content, into slabs reminiscent of tree cross-sections where the climate of a given year, and the tree's overall age are visible in a single slice. Historical information is revealed in the colors of deposit slips, pay stubs, receipts and tax forms. The cellular coils spiral outward, mimicking biological growth, as they are glued together into flat rounds, which suggest lichen, doilies or disease. The re-use of paper, as well as the attempted "repair" of the long-lost original tree, is an examination of feelings of despair about waste and unsustainability while simultaneously responding to the shadow impulse to hoard and keep what is no longer needed. The exercise of translating numbers back into a comprehensible, physical manifestation is also an attempt to develop a tool for managing overwhelmingly large tallies, such as those we encounter regularly in reports on war, debt or climate change.

In all the pieces, while the written contents of the collection are highly personal, they represent universal experiences and are easily comprehended, perhaps more easily, in the abstracted form. The art materials here could be seen as garbage, and the techniques used are not elaborate or highly skilled, but the finished pieces are dense with their written content, and with the narrative that content implies, even while it's impossible to read any of the specific names, places or other facts.
1997 Tax File
, 2007, shredded paper and glue, 1/4" x 20" x 19" (bird's eye view)
Portfolio,
2011, cut and glued portfolio of drawings from art school at Cambridge, UK in the 1940s, 5" x 25" x 16"
Kissing Cousins,
2012, cut and glued love letters between romantically involved, unmarried first cousins 1914-1917, 3.5" x 21" x 19"
Rejection Letters, 2008, cut and glued rejection letters from the first 10 years of an art career including grant proposals, gallery submissions and more, 1" x 20" x 20"
Crush, 2008, cut and glued love letters, printed emails and other ephemera saved from the first love and coming out of a gay man, 1" x 38" x 38"
1998 Tax File,
2007, shredded paper and glue, 1/4" x 19" x 18" (bird's eye view)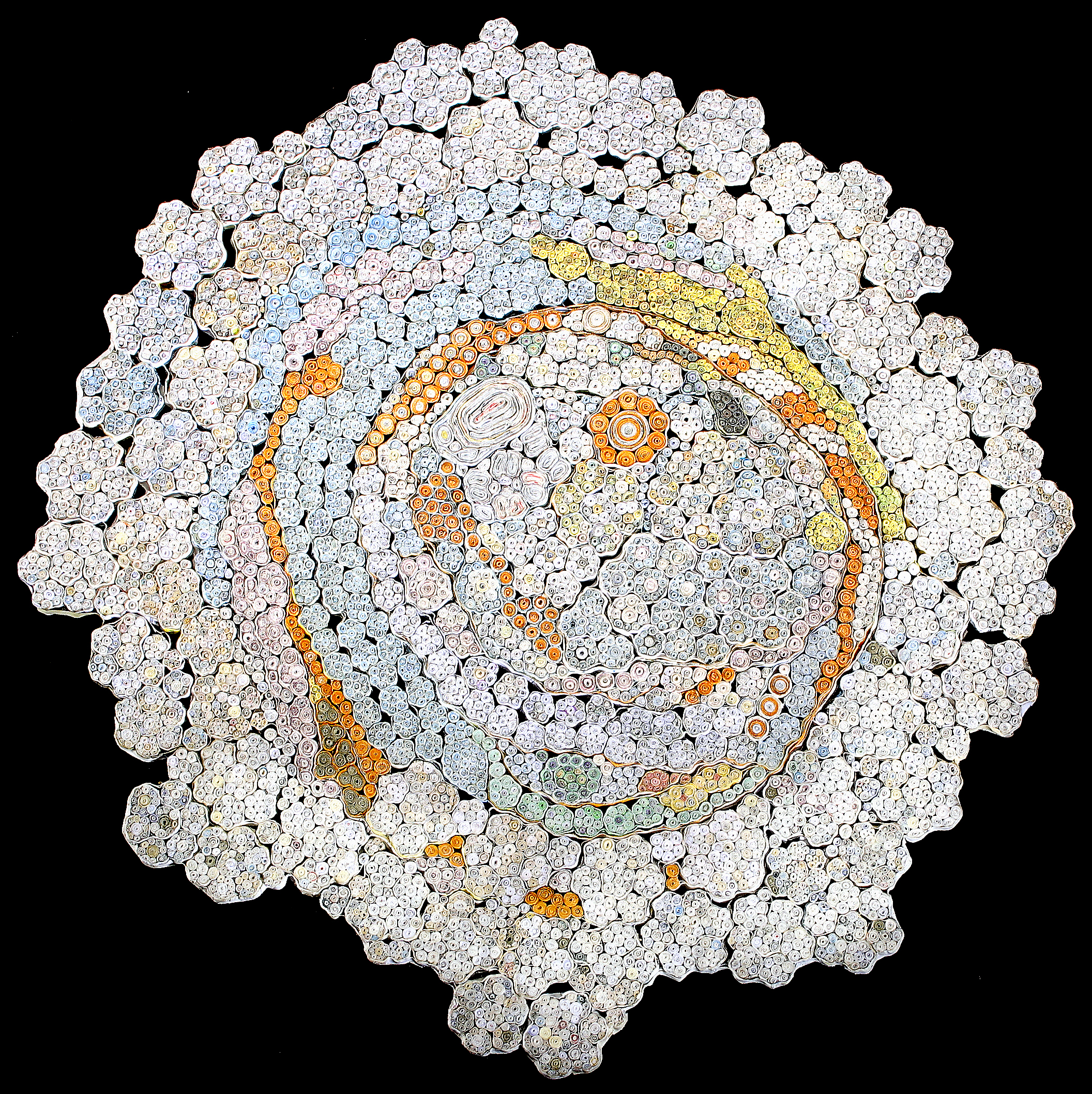 1999 Tax File, 2007, shredded paper and glue, 1/4" x 22" x 22" (bird's eye view)
© Nava Lubelski. All rights reserved.